Sureline - blue buses from Portland to Weymouth and Dorchester, August 2002 to October 2009

Please note - this is a site of historical record and does not contain current service information




On 24 August 2002 a new operator started service on the Portland - Weymouth - Dorchester corridor, a route that had seen substantial competition in previous years between Weybus, Smiths of Portland, Dorset Transit and Southern National. The latter company, now part of the First group and trading simply as First Hampshire and Dorset, had enjoyed the route to themselves in recent years. Their immediate response was to introduce additional journeys four or five times a day on route X10 from Portland to Dorchester but bypassing Weymouth town centre, and subsequently a new route 1A from Weymouth to Portland Bill (via Weston not Courtlands).

At start-up, Sureline operated on weekdays only, with their main service X10 running every half hour during the day Monday to Friday from Southwell the length of the Isle of Portland through Wyke Regis to Weymouth, Upwey and Dorchester. One peak journey in each direction was diverted as the X20 to serve the Granby Industrial Estate. On Saturdays the 1X operated every fifteen minutes between Southwell and Weymouth only. There were no evening or Sunday services at the time. From 9 November 2002 the frequency on the Portland - Weymouth section was enhanced to 15 minutes Monday to Friday and 10 minutes on Saturday; on the same date the southern terminus was moved from Southwell Eight Kings to Sweethill Ripcroft.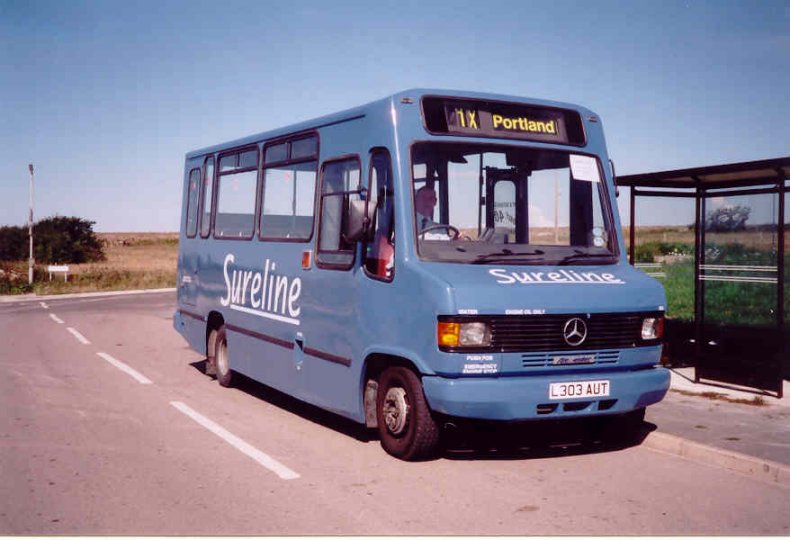 Sureline were based at Tradecroft Industrial Estate, Portland (to where they moved from Southwell Business Park, Portland in mid-July 2003). It was from here that David Beaman and Bill Landucci presided over the operation. Both had worked locally at various times in the past, Bill as operations manager for Dorset Transit and David as general manager for Southern National. The initial fleet was eight 25-seater Mercedes 709's, five of which were required for the daily run-out. These were L303AUT also 306 307 310 312 317 322 and also M166WTJ. Two more similar vehicles were acquired in November 2002, M459/460JPA, both 23-seaters, with two more following in February 2003, 27-seaters N350/1 OBC. This brought the fleet strength up to twelve, seven of which were needed in service each day.






An uplift in service started at Easter 2003, with buses on Sureline route X10 from Portland to Weymouth and Dorchester running every 20 minutes, and the route extended to Portland Bill once an hour (half hourly on Saturdays). Peak hour service X20 to Dorchester was rerouted to also serve the residential area of Southill, and a new competitive route X6 between Weymouth and Wyke Regis was started in May.


In November 2003 a further new and competitive route X7 was started linking Weymouth to Downclose Estate. That summer saw buses running to Portland Bill every 20 minutes. Introduced at the Weymouth Carnival in August was Sureline's first open-topper - a Mercedes 19 seater, registered C407VVN. It was a popular attraction and was named Gemma after that year's Carnival Queen.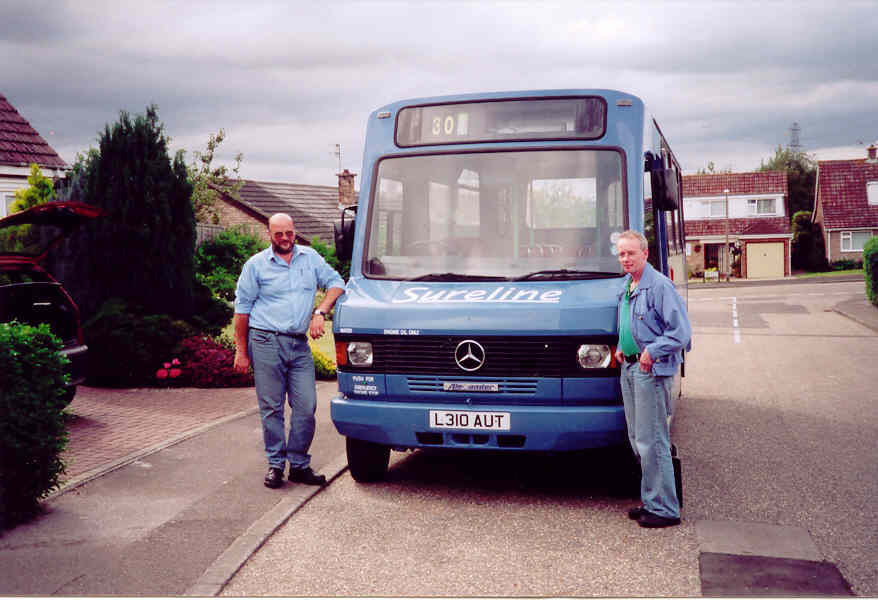 Bill Landucci, Operations Director (left) and David Beaman, Director (right) - just before the start-up of Sureline in 2002
The Sureline fleet list as at August 2003

(with thanks to Bill Landucci and Steve Oxbrow):

M166 WTJ Mercedes B709/Alexander B25F
L303 AUT Mercedes B709/Alexander B25F
L306 AUT Mercedes B709/Alexander B25F
L307 AUT Mercedes B709/Alexander B25F
L310 AUT Mercedes B709/Alexander B25F
L312 AUT Mercedes B709/Alexander B25F
L317 AUT Mercedes B709/Alexander B25F
L322 AUT Mercedes B709/Alexander B25F
N350 OBC Mercedes B709/Alexander B27F
N351 OBC Mercedes B709/Alexander B27F
M459 JPA Mercedes B709/Alexander B23F
M460 JPA Mercedes B709/Alexander B23F
C407 VVN Mercedes B608D/Reeve Burgess OB19F





Summer 2004 again saw a new timetable from 8 May with a 20 minute service running through to Portland Bill - and the arrival of two Dennis Dart 33-seaters in the fleet. These were K105 and K109 OMW, ex-Thamesdown. One of the Mercedes 709s L310 AUT had been withdrawn for scrap. The X6 Weymouth to Wyke Regis service was altered to serve Camp Road.


There was a new X25 summer only service from Portland and Weymouth to Lulworth Cove and Monkey World (marketed as the "Conservation Express"). This started at the end of May with one of the new Darts but open-top double deck Leyland Fleetlines hired from Bournemouth Yellow Buses ran the service six days a week during the peak months of July and August. An interesting summer season! July's acquisition was Lynx F275 AWW, from Don Prentis Coaches of Haddington. Other fleet changes continued to occur and there was a new contract for an ASDA supermarket bus, as well as new college contracts to Kingston Maurward.
The Wednesday market bus from Wyke Regis and Abbotsbury to Dorchester, started by Barrys Coaches in 1981, and operated in recent years by Wessex Bus, was now run by Sureline as route 61 from autumn 2004. From 31 January 2005 Sureline ran the 43 Askerswell-Bridport and the 73 Maiden Newton-Bridport services. (The latter run most recently by South West Coaches, ex-Wakes, and of course originally by Pearce of Cattistock).

More developments in 2005 included the takeover by Sureline from First of the 7 / 7A Weymouth - Portland Verne routes as from 29 May. The X7 and X7A from Downclose Estate were extended to Portland and The Verne. The former Weaverbus route from Weymouth to Winfrith Technology Centre now became Sureline service X30 from 25 July, and was extended to run to and from Portland. The X25 Conservation Express open-topper route to Lulworth Cove and Monkey World was reintroduced for the summer period (3 July to 2 September 2005). From 25 July service 73 Maiden Newton to Bridport had a new dedicated easy access Mercedes midibus and operated on a semi-flexible basis with on-demand off-route diversions (marketed by the Dorset County Council as "Door to Dorset").

From Monday 8 August 2005 the route of the X10 was revised to serve St. George's Estate, Portland and also the National Sailing Academy on request (but the 1X Saturday route was not so altered). From Monday 5 September 2005 Sureline took over the operation of services 212 Dorchester - Maiden Newton - Cattistock - Yeovil and 216 Dorchester - Cerne Abbas - Sherborne - Yeovil with an improved timetable on a two hourly headway circuit of the two routes combined. Most recently operated by First, the 212 is a direct desendant of the former services of Pearce of Cattistock whilst the 216 was operated for many years by Bere Regis. The ASDA free bus services in Weymouth were withdrawn after the close of service on Friday 2 September 2005.

Spring of 2006 saw a new maintenance facility opened at Southwell Business Park as well as some timetable alterations from 24 April. After three and a half years this thriving operation now employed some thirty drivers, with a peak vehicle requirement of fourteen. There were timetable changes again from 24 July 2006, which included the new X37 fast bus between Weymouth, Dorchester and Yeovil, with convenient timings for students at Yeovil College and hospital nurses as well as other journeys. Also all buses now operated from the Tradecroft depot in Portland with none outstationed at Dorchester as happened previosuly for the 212 and 216 routes. A new innovation was summer only route X from Seaview Holiday Camp to Weymouth, but the X25 open top service no longer operated (although Monkey World started to run their own shuttle bus service to and from Wool railway station).

Four and a half years of operation saw timetable revisions again in January 2007, with a reduction of service on the Portland Verne and Grove sections of routes X7 and X7A, and a thinning out of Saturday operations on the main Portland - Weymouth- Dorchester route, which was now principally comprised of positioning journeys for the 212 and 216 services at Dorchester. 2 April 2007 saw further changes, especially north of Dorchester, with Sureline still operating commercially on the 212 through Cattistock to Yeovil but now on Monday to Friday only.

The Saturday operation of the 212, together with the Dorchester via Cerne Abbas to Sherborne and Yeovil 216 route (and the Damory Coaches routes through the Piddle Valley) were largely replaced by Door-to-Dorset flexible demand responsive services, sponsored by the county council and operated by Nordcat of Sturminster Newton. This had already happened on the Sureline Maiden Newton - Bridport 73 service, as well as north of Wimborne on the Nordcat ex-Stanbridge 300 routes, also east of Dorchester on the Nordcat 101 / 103 routes to Wool, Bovington and Lulworth. Many of these journeys had to be booked in advance by phone and could only be used by clients who had registered in advance as service users, which seemed a strange way to encourage people to use public transport!

A new X14 route providing a two journeys Monday to Friday off peak shopping service operating on schooldays only from the Brackendown Avenue area of Preston to Weymouth started on Monday 26 November 2007. Further Sureline timetable changes were made on 2 January 2008 on routes X7A, X10, X37 and 212, including provision of a daily shopping journey from Chickerell to Dorchester by diverting one of the X10 journeys. Again timetable changes were made on 1st September of that year. Yet again, the timetable for the 212 and X37 services from Dorchester to Yeovil was amended on 26 January 2009, this time for the routes to run on schooldays only. The Door-to-Dorset service D11 covered the route on non-schooldays and Saturdays. A further timetable revision on 20 April concentrated the main thrust of the operation of the X10 and X20 routes on to the Weymouth to Dorchester sector, with much reduced service to and from Portland (which destination, as may be recalled, was the original principal thrust of the competitive operation when Sureline started in 2002).

From 26 October 2009 the Sureline operation was taken over by South West Coaches of Wincanton (successors to the long established Wakes of Sparkford and Wincanton) and the original founders of Sureline David Beaman and Bill Landucci left the company. Sic transit gloria mundi. The new owners continue many of the services that were provided by Sureline including the original route to Portland. However this is being withdrawn in February 2013, with the reason cited as being lack of adequate recompense for carrying concessionary pass holders.

Two Sureline vehicles on routes X6 and X30 at Kings Statue Weymouth on 19th November 2007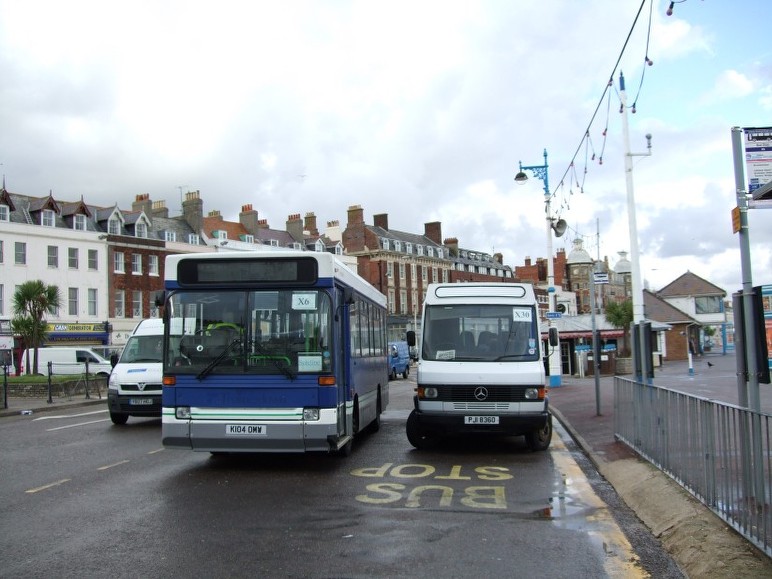 The Sureline open topper "Conservation Express" pictured at Lulworth Cove on its first day of operation 1 July 2004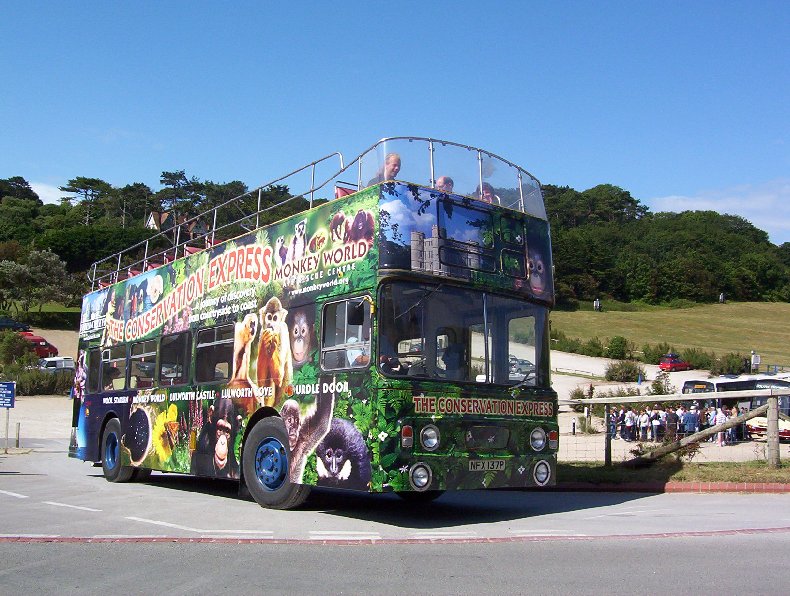 Publicity for the X25

Conservation Express

at Wool Station in 2004;


this ran only in the summers


of 2004 and 2005.

Sureline Dart at Town Bridge, Weymouth,
December 2004, on service X10 to Portland.

Two deckers in Conservation Express
livery from the summer X25 service
alongside the Lynx in the depot yard,
December 2004.
| | | |
| --- | --- | --- |
| | | |
| | | Sureline backing the Olympics bid! The then latest acquisition, an ex-London 24-seater Dart pictured in Weymouth in March 2005. |
| | | |
| --- | --- | --- |
| | | The new low floor Mercedes delivered to Sureline in April 2005 for their Bridport area routes 43 and 73 |
| | | |
| --- | --- | --- |
| | | Sureline continued to amaze. On 23 June 2005 they celebrated jointly with First Bus the 100th anniversary of the start of bus services in the Weymouth area. It was in 1905 that the Great Western Railway introduced a service of road cars between Radipole, Weymouth and Wyke Regis, which still then formed part of the Sureline route. |
| | | After a celebration lunch for invited guests the Sureline single-deck open topper C407VVN was operated in GWR chocolate and cream livery complete with driver and conductor in period costume. |
| | | |
| | | South West Coaches route 210 waiting in Weymouth in September 2010. The direct inheritors of the erstwhile Sureline X10 route. The vehicle YEZ6692 is a 1996 Volvo B6 with Wright Crusader body. |
=== All photos on this page by courtesy of my good friend Henry Frier ===